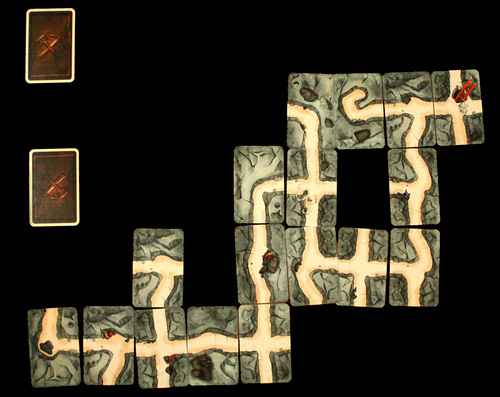 Actually this is the main purpose which takes my time so I almost has no time to post (not even have a holiday). This game is my final project for my pre-graduate study. It will be hosted on http://saboteur.arkross.com.
For those who haven't heard of this game, I'll give you a quick explanation. It's a mining-themed card game. The players make a path at each of their turns, until they find the gold, or until the deck is eaten up. The full guide is here.
Okay, back to topic. The rules isn't important here. What I want to say is, I'm remaking this card game using web application – or in another word, a Web Game. After some time I spent on researching, I found that almost every popular web game is based on Flash. The problem is, I don't know much about Flash. Something inside me is protesting: Why Flash when there's Javascript? (I don't know why I'm such a pro to Javascript, but that's me).
And my stubbornness leads me to Ajax. An ordinary ajax technique won't be sufficient, I need Ajax Polling technique. According to my research, the true Ajax Polling is one of the technique which is called Comet Programming. What the hell is that? Well if I know, I would not be so confused doing this project.
So far about my project, I'm using CodeIgniter 2.0.2 (and I will continue updating it), jQuery 1.5.2 (always updated), and some CI Libraries. I hosted my project on Github. If you want to check just stop by.